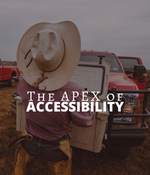 The apex of accessibility:
3 Ways the Apex Bed Rack Makes Your Life Easier
We know what it's like to be out on the job and, no matter what you're doing, you need a high-performance cooler with you. A cooler that's easy to use and easy to secure.

That's why we're here. The APEX Cooler System is built for functionality and convenience, designed to work specifically with our Bed Rack — perfect for securing your cooler to a pickup truck bed, a truck flatbed or equipment platform. Here's why:
Flush-mount steel plates

Our Bed Rack is built to be functional when you need it and completely out of the way when you don't. The bottom plates mount flat to the bed of your truck, leaving you with unobstructed use of your entire truck bed when the cooler is not in use.

Securable from both sides

With the ability to lock down both sides on our Bed Rack, you can secure your cooler and forget it. You can be elsewhere on the worksite knowing that your cooler isn't going anywhere.

Allows for easy access to the drain plug

With the Bed Rack, the drain plug is completely accessible without having to unlock the cooler. So, before leaving either home or the shop for the job site, simply open the drain plug, drain any water and refill with ice and beverages as necessary. No locks to undo or heavy coolers to load. These are just a few of the many ways our system works to make your life easier. The APEX Cooler System offers equal parts quality and functionality.